Punk-Romanticism, 2015
12/03/2015 > 27/06/2015 – Galería Balaguer Barcelona, Spain.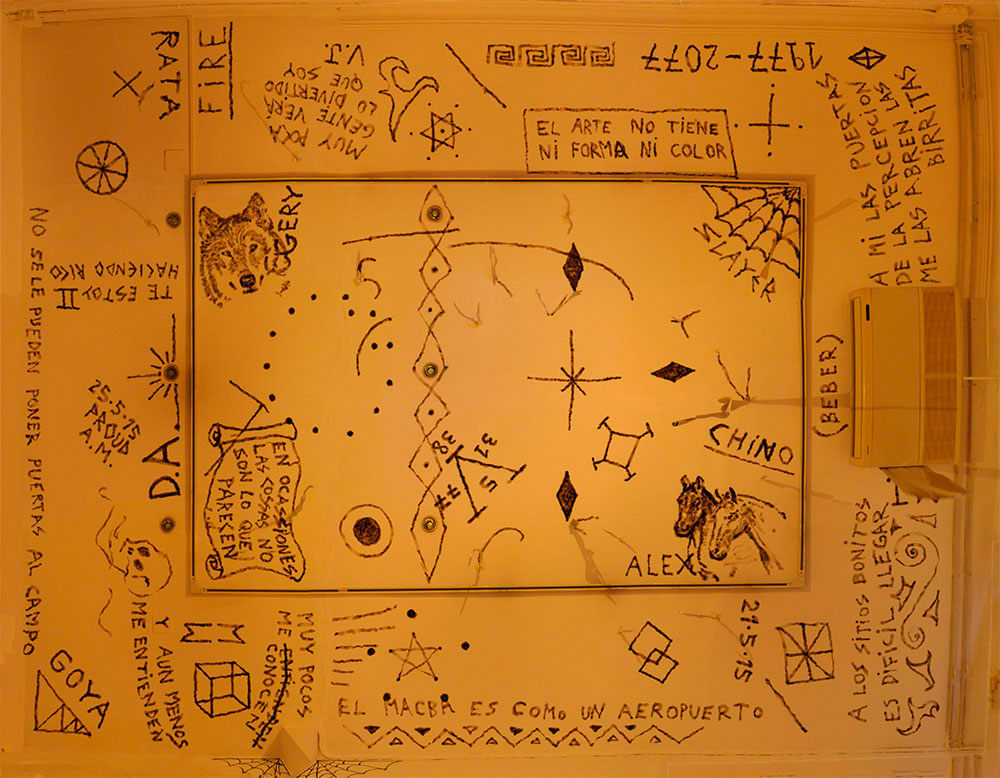 * Techo de la sala grande de la galería, lo hice con un mechero –  Ceiling of the large hall of the gallery, I did it with a lighter
(esp)
En esta Exposición-Obra veremos piezas en diferentes disciplinas concebidas exclusivamente en este espacio, la mayoría de ellas de naturaleza efímera. La galería se ubica en un piso de el ensanche barcelonés, y ahí me instalaré dos meses a modo de chamán en la caverna. Intentando tocar el arte lo menos posible, iré desarrollando una propuesta global, introspectiva y profunda. El subconsciente, el instinto y la intuición serán los sustratos a partir de los cuales afloraran las obras. Después del trance, el mapa mental resultante quedará abierto al público únicamente durante nueve días, haciendo justo lo contrario de lo que es lo habitual en los tiempos de las exposiciones.
(eng)
In this Exhibition-Artwork, we will see interdisciplinary artwork of a mostly ephemeral nature conceived exclusively in the space. The gallery is located in a Barcelona flat in the Eixample district. Here, I will dwell like a shaman in a cave. Through trying to touch the art as little as possible, I will develop a global, introspective and profound proposal. The Subconscious, instinct and intuition will be the substrates from which the artwork will flourish. Once out of trance, the resulting mental map will be open to the public for only nine days, contrasting with the usual exhibition process.
Imágenes de la exposición | Exhibition images (by Andreja Veluscek)
Documentación – Documentation
Vídeo de la exposición – Exhibition video
Catálogo de la exposición PDF – Exhibition catalogue PDF 
Prensa – Press
Hangar (esp – eng)
Timeout (esp)